Puppets & Marionettes. Part 1
As young and not-so-young lovers of the program will know, Puppetry is a big feature of Speekee – and not by chance.
In this short series of posts about Puppetry, we first explain some of the background to the puppet concept…
Three top Puppetry facts:
– a form of theatre or performance that involves the manipulation of puppets
– believed to have originated 3000 years BC
– most puppetry involves storytelling
– What is a marionette?
A marionette is a puppet controlled from above using wires or strings depending on regional variations. Marionettes are sometimes referred to as "puppets", but the term "marionettes" is more precise, distinguishing them from other forms of puppetry, such as finger, glove, rod and shadow puppetry.
– Styles of marionettes
Sicilian marionettes
Sicilian marionettes are among the simplest marionettes to operate.
Czech marionettes
Czech rod marionettes are similar to Sicilian ones though they are more complex and usually hand carved.
Burmese marionettes
Burmese marionettes are all string operated and are a popular art in Burma.
.
Chinese Puppets and Marionettes
Chinese puppets are modeled after characters in the Chinese opera.
Marionettes on TV and in films
With the rise in popularity of television and film, marionettes found popularity especially in children's programming. The story of Pinocchio, released in 1940, is about a marionette.

From the 1940s onwards, the BBC in the United Kingdom, produced a wide series of marionette programmes for children, such as Bill and Ben, Muffin The Mule, and Andy Pandy.
And who can ever forget the USA's Muppets?!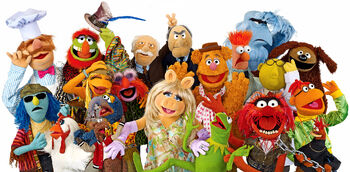 Next:
On the topic of Puppets & Marionettes:
More types of puppets and marionettes from different world regions.
Types of puppets and marionettes in modern times.
Some more history